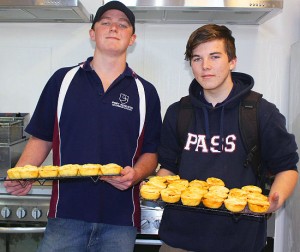 Students Tyrone Rich and Kynan Walker with some pies prepared for a catering job.
Catering a valuable experience for hospitality students
Hospitality students in the YES Centre are kept busy during the school year catering for events in Port Augusta and learning valuable skills they can put to use in future careers in the industry.
Mrs Belinda Myles, who delivers the Hospitality program in the YES Centre, said as well as allowing students to gain a valuable insight into the hospitality industry, the catering has also meant the school has been able to buy some new kitchen appliances including a thermomix, a new fridge, food processors, pasta machines, cookware and utensils.
She said Certificate I in Hospitality and Certificate II in Kitchen Operations students achieve SACE credit for their studies.
"They gain SACE credits for these VET (Vocational Education Training) courses and they get to work out if they want to work in the industry," Mrs Myles said.
The catering jobs are mostly Departments of Education and Child Development (DECD) functions, with a small number of private catering engagements.
Mrs Myles said a lot of preparation goes into getting ready for catering. A menu needs to be decided, food quantities need to be calculated and then shopping for the ingredients.
As food needs to be transported to different sites, that is also a consideration when deciding upon menus.
Mrs Myles said the catering was a very beneficial experience for students.
"One of the benefits is the students get to cook for a reason and a purpose," she said.
"It's more life-like. They get to see what it's like in the industry."
"A lot of students work in the fast food industry already and so have some knowledge of kitchen operations and safety procedures.
"You can see the students get more confident with each catering job.
"It's tiring and a lot of them are surprised at how tiring it is."
Mrs Myles said students had received positive feedback for their catering and after each job they hold a debriefing session and discuss what worked well and what didn't work so well in that job.
She said on the "wish list" for the hospitality program are some tiered, stainless steel preparation benches.
"They would make it feel more like a workplace – make it more realistic," Mrs Myles said.