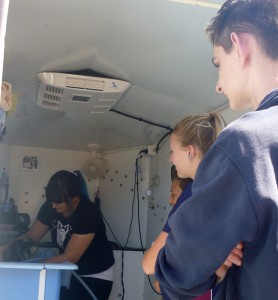 Connor and Mandy watch as Scrappy the dog has a warm hydrobath during Michelle's Groom Service visit with Animal Studies students at the YES Centre.
MICHELLE MAKING IT EASY FOR DOG OWNERS
By Brok Boucher
How easy would it be if your dog groomer came to you?
Professional dog groomer Michelle Prentis, a former PASS student, is doing just that with the establishment of her new mobile dog grooming business, Michelle's Groom Service.
"I have a brand new, full-equipped trailer that is ready for any breed of dog," she said.
Dog lover Michelle studied Certificate I in Animal Studies through the YES Centre in 2011.
Michelle visited the YES Centre in 2015 to speak with this year's Animal Studies students about job opportunities involving animals, and showed them her new mobile grooming trailer.
After leaving school, Michelle started a traineeship at Redgum Vet and Pet Boarding in Port Augusta.
She left after nine months and began working at Fussy Dogs, a grooming business in Whyalla. She has worked there for two years.
Many Port Augusta people were asking if she was going to return to dog grooming in Port Augusta which prompted Michelle to decide to establish her own mobile dog grooming business.
Michelle now has a custom-made trailer, fully-equipped with a warm water hydrobath and equipment for coat clipping and blow-drying, brushing, coat conditioning, ear cleaning and nail clipping.
She does full clips, show cuts, touch ups, trimming around face, eyes and feet, and hygiene clips for dogs.
As well as Port Augusta and Stirling North, Michelle also takes her service further afield, to places such as Quorn and Orroroo.
Michelle continues to work at Fussy Dogs and does her own grooming service on weekends, operating from 9am to 4pm on Saturdays and Sundays.