Community Mentoring
The YES Centre is very fortunate to have several volunteer mentors work with our students.  These volunteers support students with wellbeing and educational activities including craft, cooking or just a chat.
Sessions are held for one lesson per week at a convenient time for both mentor and student.
All volunteers undertake a comprehensive screening and training process, which includes Criminal History Screening and Responding to Abuse and Neglect, before they are matched with students.
Community mentors meet with students face to face in the YES Centre.
Please contact us at the YES Centre on 8647 3320 if you would like to know more about the programs and support we offer young people.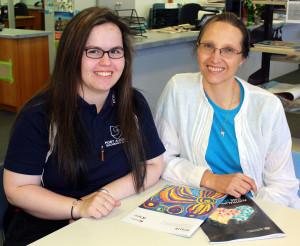 Community mentor Tracey (right) with student Brianna.