VET (Vocational Education & Training)
2021 Certificate programs
Please note these programs are expected to be available but are subject to review by the school and training organisations (RTOs).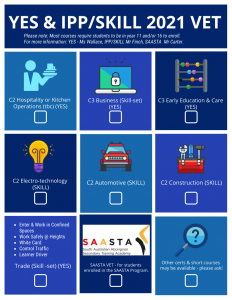 ---
 YES
YES VET Accredited Training (Work Preparation)
YES VET Certificate 3 Business (Skillset)
YES VET Certificate 3 in Early Education & Care**
SKILL/Industry Pathways Program (IPP) (Assistant Principal Mr Finch)
AUR20516 Certificate II in Automotive Servicing Technology **
UEE22011 Certificate 2 in Electro-technology (Career Start)**
CPC20211  Certificate 2 in Construction Pathways **
 ** Training Guarantee for Secondary Students (TGSS) – Programs are subsided by the SA government. Students must be in year 11/minimum 16 years by the beginning of term 1 2021 (or term 3 for any Semester 2 programs).
---
SAASTA (Assistant Principal/SAASTA Coordinator Mr Carter)
South Australian Aboriginal Secondary Training Academy (SAASTA) offers a variety of vocational certificates. For more information please speak with Mr Carter or go to:
https://www.education.sa.gov.au/teaching/projects-and-programs/saasta/saasta-school-based-academy-curriculum 
---
To express interest in one or several of these courses please make an appointment with a year level AP or student well-being leader.
All course applicants are required to participate in a course-counselling interview prior to entry.
All certificates contribute to SACE at either Stage 1 or 2 – please speak to the YES Assistant Principal, Student well-being leader, or Year 11/12 Assistant Principal for more information.
For more information about VET in SACE go to the SACE Board VET in SACE website.
Please contact us at the YES Centre on 8647 3320 or email   Karen.Wallace170@nullschools.sa.edu.au if you would like to know more about VET @ PASS.