Animal Studies students first to access zoocams
By Jessica Kotz
Animals Studies students in the YES Centre were privileged to be the first students to access webcams at Adelaide Zoo to observe animal behaviour as part of a Children's University program.
Representatives from the University of Adelaide visited the YES Centre on March 17 to deliver a short lecture entitled 'Animals Extreme!'
Animal Studies students viewed live footage of animals in their enclosures and observed their behaviours. The animals viewed by zoocams are bilbies, wallabies, stick nest rats, hopping mice and ghost bats.
Ms Wee-Ching Kong, Compass Project Officer from the university's Office for Future Students, asked students to write down what they observed and record this information in ethograms.
Students learned that an ethogram is a recorded observation of animal behaviour over a set period of time.
For example, recording if an animal is sleeping, eating, running, drinking, grooming, hiding, jumping, digging or any other behaviours.
Many students were expecting the animals to be active, but were surprised to discover the majority were inactive at the time of observation.
In the future, Animal Studies students from the YES Centre students will help deliver the program to primary school students.
Ms Karen Wallace, Assistant Principal YES Centre, said she hoped that having secondary students delivering programs such as zoocam to primary students would help to improve the transition process from primary to secondary school.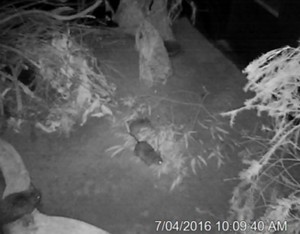 Zoocam footage of the Stick Nest Rat enclosure at Adelaide Zoo.