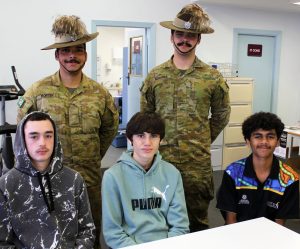 YES STUDENTS LEARN ABOUT LIFE IN THE ARMY
Job security, medical benefits and travel around the world were some of the positives members of the Australian Army spoke to students about when they visited YES during June and spoke to students about career options within the Australian defence force.
Trooper Kallan Edwards and Trooper Billy Porter from the Australian Army addressed students on the many possibilities open to students after school within the defence force.
"It's a good job, earning $70,000 straight out of school," Trooper Porter said. "You get free medical, dental, assistance with housing and job security.
"You get to travel and see new places and."
They also spoke to students about taking part in exercises in other countries and working with defence personnel from those countries.
"I've done border watch Australia/PNG, jungle field exercises in Malaysia. We trained with the Thai army in Thailand," Trooper Porter said "You form bonds/mateship and make friends for life. We did an exercise with US Marines in Darwin and I still keep in contact with those guys."
He also spoke about the opportunity to train to use many different types of weaponry, to work in communications and also to learn to drive the many and varied army vehicles.