Providing pastoral support to staff, students and families
Port Augusta Secondary School is supported by a Pastoral Care Worker (PCW).
Mrs Ruth Saulo joined PASS as PCW in late 2021.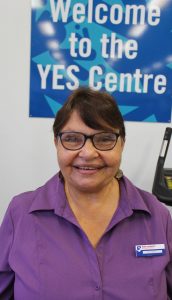 Message from Ruth:
Dear all,
My name is Ruth Saulo and I am the Pastoral Care Worker in PASS. I am attached to the YES Centre.  My position works in collaboration with the Schools Ministry Group of SA (SMG) and the YES Centre.
My role in the school is to be available to staff and students to help students, parents and staff navigate the challenges of life.
Pastoral Care Workers are:
 First responders and are able to identify issues and concerns as they emerge.
 Employees of third-party providers (SMG); we are not an employee of the school, nor responsible for discipline or instruction.
Religious workers and are able to provide holistic care, including supporting students' spiritual wellbeing, so important for overall wellbeing.
Pastoral Care Workers do not proselytise, nor do they promote a particular world view, faith or creed.
I am available to listen to issues that affect lives, to assist those who may need another point of view or direction in their life journey's.  Students especially need to be able to discuss areas of their lives that need attention.
I am generally interested in everyday lives and the navigation of the many roads people choose.
I am available to attend excursions, activities and classes where you feel my presence would be of benefit to students, parents and staff.  My work hours are flexible.
I can work in with other wellbeing staff in PASS, sharing the provision of support.
My availability:  YES Centre Tues/Wed/Thurs. 8:30am – 1:30pm.
Ruth Saulo
Pastoral Care Worker