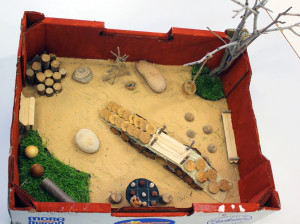 CHILD STUDIES STUDENTS LEARN ABOUT NATURE PLAY 
Child Studies students in the YES Centre have been learning about nature play.
As part of their learning, students have visited nature play areas in and around Port Augusta and Stirling North to investigate the benefits for the health and wellbeing of children and any implications involved.
Students were required to write an action plan and then had to design their own nature play garden based on their investigations.
Once they had finished planning, students created their own 3D visual representation of a nature play garden.