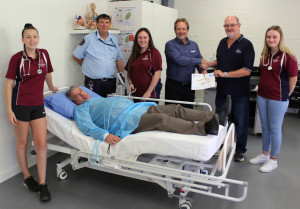 PASS principal Mr Paul Billows thanks members of the Knights of the Southern Cross Mr Jeffrey Shillabeer and Mr Neil Miller for the donation to buy a hospital bed to benefit students studying health certificates in the YES Centre. Deputy Principal Mr Simon Owens tests out the new bed.
DONATION FUNDS HOSPITAL BED FOR YES CENTRE
Students studying health certificates in the YES Centre at Port Augusta Secondary School will benefit from a donation to buy a hospital bed.
Program coordinator Mrs Emily Doran approached community charity group, Knights of the Southern Cross (KSC) late in 2018, about the possibility of funding the purchase of a hospital bed to be used in the delivery of a variety of health certificates in the YES Centre.
The KSC donated the full amount to purchase the hospital bed, totalling almost $4000.
Mrs Doran said students in Certificate III in Individual Support (Ageing); Certificate III in Allied Health; and Certificate II in Health Support Services will benefit from the purchase.
"This allows students to be able to study here without having to travel to other regions and in turn, hopefully, gain employment within the local area," she said.
KSC Port Augusta branch chairman Mr Neil Miller said the organisation has a focus on Aged Care and Palliative Care.
"We can provide support whether it's financial or providing resources to those concerned to have dignity and high quality caring in the twilight of their life," he said.
"Our finances are raised by running bingo on Monday evenings at West Augusta Football Club and we support all our charitable work in the Port Augusta district."
Mr Miller said the Port Augusta branch gives donations to organisations who write seeking help and also if the branch identifies a need in the community. KSC has an assessment process it undertakes when funding requests are received.
"We believe YES was a worthy recipient as the health care Industry, whether aged care or infirmed care, is a growing business and there is a need for highly qualified personnel," Mr Miller said.
He said qualified personnel will be a valuable asset to the Port Augusta community.