GENEROUS PRODUCT DONATION TO YES HAIR AND BEAUTY SALON
The YES Centre Hair and Beauty Salon welcomed a generous donation of hair products from KD's Hair Flair owner Hannah Wilson recently.
The donated goods, valued at about $500, included shampoos, conditioners, treatments and hair styling products.
Ms Wilson said she wanted to support the school's hair and beauty program and she thought it would be nice to support students who are interested in the industry.
YES hairdressing program lecturer Mrs Belinda Myles thanked Ms Wilson for her generation donation.
"The students will gain valuable knowledge from the gifted products and we are very appreciative," Mrs Myles said.
She said hairdressing students will now get to experience another product range other than the one presently stocked in the YES salon, giving them a wider knowledge of products.
"This will help them in selecting the correct products for the correct hair types and styling purposes," Mrs Myles said.
"They will be used on each other and clients
"The shampoos, conditioners and treatments will be used at the basin as well as for research portfolios."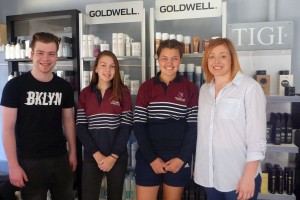 YES Hair and Beauty students with Hannah Wilson and Matthew Wilson from KD's Hair Flair. Ms Wilson donated $500 worth of products to the YES Centre Hair and Beauty Salon.