JOHN HAS HIS SIGHTS SET ON POLICING
John McCuish has his sights set on becoming a police officer.
The former YES Centre student has recently completed his Certificate II in Security Operations and in September started working for Augusta Security as a security guard.
John completed his security operations studies over a two-week period at MSS Security in Adelaide. On completion John was issued with his security agent's licence.
As part of his employment he is contracted as a security guard at Coles supermarket, which requires John to observe and report people's behaviour. At the end of each shift he is required to fill in a work log, detailing what happened during his shift.
Recently he also had to keep sites secure around damaged power poles near Wilmington, following the October storms.
The best part of his job is interacting with people, he said. He said it was also a good job because he had good working hours with a set roster and varying work times, including day, afternoon and night shifts.
His future goal, however, is to pursue policing as a career and he hopes his work in security will help him learn skills to help him achieve this.
"It has been a life goal of mine to join the police force," John said.
"I've always been interested in it, right from when I was a small boy, about three."
John said he was thinking about doing further study, possibly a Certificate III in Police Studies through TAFE.
Before beginning work as a security guard John said he also completed 10 weeks of on-the-job management training at the Hannahville Hotel.
John's advice to present students is to keep working towards their education and work goals.
"You can aways take your education further," he said.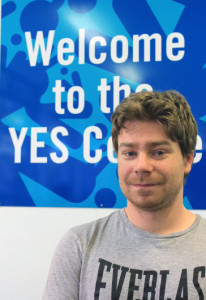 Former YES Centre student John McCuish is hoping to pursue a career in the police force.