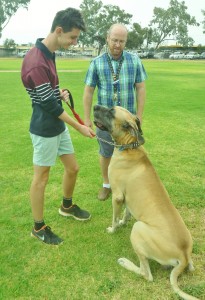 CAPTION: Animal Studies student Connor Dwyer meets Mr Nathaniel Steele's Great Dane, Lenny.
LARGE LENNY A HUGE HIT
By Brok Boucher
Lenny the Great Dane was a huge hit when he visited Animal Studies students during February, 2015.
Lenny, who belongs to teacher Mr Nathaniel Steele, was 4 years old at the time and students and staff were amazed by his enormous size.
His visit was part of the Animal Studies course offered through Vocational Education Training (VET) at Port Augusta Secondary School.
Animal Studies coordinator Mrs Mel Moroney said 9 students, from years 9 to 12, were enrolled then in the course.
The course looks at the basic care and husbandry of animals, career paths and what is involved in animal industries.
Animal Studies is held in the YES Centre, and most students involved in the program have a love for animals. Students can gain points towards their SACE through the course.
As well as classroom studies, students also get to do work experience at both veterinary clinics in Port Augusta, as well as visits to animal organisations and local business to explore career pathways.
Throughout the course a variety of different animals visit to provide practical experience for students.
As well as Lenny the Great Dane, students have also hosted Oscar the Maltese/Shitzu puppy this term.