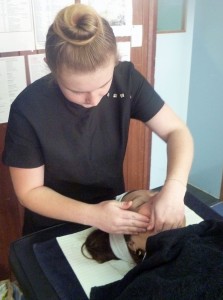 Serina performing a facial on a client during a salon day.
SERINA AIMING FOR A CAREER IN BEAUTY
By Jessica Kotz
A career in beauty is Year 12 student Serina Emonds' ambition and in a step towards that goal she has hosted two salon days in the YES Centre this year.
Serina has been studying Beauty in the YES Centre since 2014 and has completed a Certificate II in Retail Skincare and Make-Up.
The Vocational Education Training (VET) course is delivered by Mrs Kristy Kuhn, who helped Serina organise the salon days.
She offered full and mini manicures, full and mini facials, eyebrow tints and eyelash tints. Serina said she enjoyed the experience.
"I had 18 clients in the two days," Serina said.
"Clients were charged a small fee which covered the cost of products used."
Mrs Kuhn said Serina performed well during her salon days.
"Serina's confidence within herself has developed tremendously over the course of the salon days," Mrs Kuhn said. "She independently prepares and completes all required treatments she has offered.
"Her communication skills are continually growing as a result of her hard work.
"Well done Serina it's been wonderful working with you."
As well as assisting with her ambition to secure employment in the beauty field, the salon days were also a way for Serina to complete hours for her Stage 2 Community Studies subject.
Stage 2 Community Studies students are required to complete 60 hours in projects serving the community and work experience.
Over the two salon days, Serina completed 10 practical hours.
Serina has also completed work experience at Nat's Spa and Beauty, Port Augusta.
For the remainder of the year Serina will be assisting the Introduction to Hair and Beauty students in the YES Centre, to gain more experience and continue to develop her skills in the beauty field.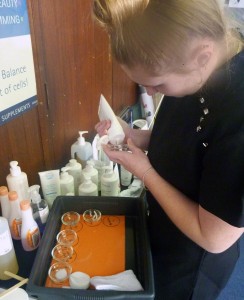 Serina preparing a product tray for a facial.