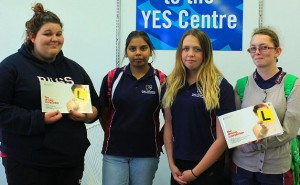 STUDENTS GAIN LEARNER DRIVER PERMITS
Twelve students from Port Augusta Secondary School attended a learner driver program and received their Learner's Permits on Wednesday, November 16.
The program was funded by the Workabout Centre.
Workabout coordinator Ms Natalie Giles said students attended a theory session in the morning, delivered by Accustom Driving School.
Then, they did some practice give way questions and practice tests, before sitting their actual Learner's Permit test in the afternoon.
Ms Giles said a staff member from Services SA came to PASS to conduct the tests in the afternoon.
Year 10 YES Centre student Macacia said she thought the program was a good way to sit her learner's permit and she was very happy to pass.
"I felt more comfortable and not under pressure," she said.
"They explained everything to you to make it as simple as they could."