STUDENTS RAISE $360 FOR CANCER COUNCIL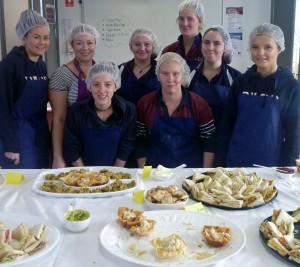 Keira, Donna, Cassie, Amy, Miss Mack, Georgia-Rose, Georgia and Caitlin and an array of foods they prepared for the Biggest Morning Tea fundraiser.
By Brok Boucher
Year 12 Food and Hospitality students from Port Augusta Secondary School hosted a fundraiser for Australia's Biggest Morning Tea in 2015, raising $360 for the Cancer Council.
All staff and year 12 students were invited to attend Australia's Biggest Morning Tea on June 4 at lunchtime in the Home Economics room.
Students began preparing for the event at the start of this term by finding recipes and deciding who would prepare which dishes.
"Most of the food was prepared in the week before, but some was made within the past three weeks and frozen," Food and Hospitality teacher Miss Katie Mack said.
Food available included vegie bites, sandwiches, vol-au-vents, banana bread, Nutella dip with fruit, cold rolls, sandwiches, home-made crackers with hummus and avocado dip, and scones with strawberry, raspberry and  quandong jam.
The eight students organized the event as part of their group task activity in Year 12 Food and Hospitality.
"A requirement of year 12 is a group task and the class wanted to fundraise – they had a goal," Miss Mack said.