FUNDS DONATED TO FIRST AID PROGRAM
Ms McLean's Year 10 Business Studies students hosted a fundraiser earlier this year which benefitted five charities and organisations.
The students sold milkshakes to students and staff at PASS, raising $235.
One of the beneficiaries was the YES Centre and the $85 donation was put towards buying a new resuscitation baby for the First Aid Program.
"Our First Aid Program needs to purchase new equipment to ensure we can continue to deliver training to our PASS students," YES assistant principal, Ms Karen Wallace said.
"We are extremely grateful for your hard work and generosity – thank you!
"It is terrific to see students working to support projects in the school and wider community."
Other charities to benefit included World Vision ($40), Make a Wish Foundation ($40) and the local pound ($30).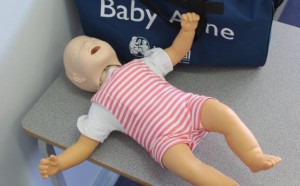 The new resuscitation baby bought for the First Aid Program using donated money.