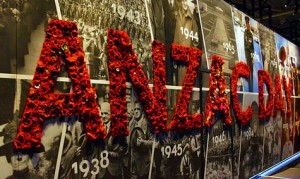 For more than 100 years, Australia's armed forces have been involved in conflict, peacekeeping, humanitarian assistance and disaster relief around the world.
A PROUD HISTORY OF COURAGE, SERVICE AND SACRIFICE
The enormity of war and realisation of the sacrifices made by many to enable us to live the lives we do in Australia today was the overwhelming message YES Centre students took away from their visit to the Spirit of Anzac Centenary Experience in November.
The travelling exhibition was at Port Augusta's Central Oval Complex from November 9-14.
The realisation that many who went to the First and Second World Wars were of similar age to a lot of the students was confronting for some.
"They were not fully mature and volunteered to go off to war and they didn't know what they were signing up for," Year 10 student Ethan Blair said.
Students learned about Australia's history of courage, service and sacrifice from the First World War, through all of the conflicts up to the present day.
"My favourite part was the weapons exhibit where it explained it all in detail," Ethan said.
"I also liked the part about what happened to them after the war when they came home and they didn't have anything.
"Some ended up homeless because they couldn't deal with what they had seen and experienced."
LEFT: YES Centre students learned about the role nurses played during the wars. RIGHT: The Lest We Forget Gallery was a place of reflection, contemplation, and commemoration.