YES Apex Park Campus
in 2021 YES identified a need to expand our program to meet the specific learning needs of students who required a less sensory, quiet space and targeted support to meet their learning needs.
With support of the Port Augusta Council and some minor renovations we were able to move into the former CWA building adjacent to the school at Apex Park.
The centre caters for students in years 7-12. Mondays to Thursdays a core group attend from 9:00am-1:00pm.
From 1:30-3:00 senior students requiring access to year 12 specialist subjects and teachers attend classes. This time is also accessible for students who have parenting responsibilities.
Fridays are for students requiring targeted, transitional support by appointment only.
All students attending our Apex Park campus may have access to hybrid programs within our main YES campus and/or mainstream or Open Access subjects.
YES APEX PARK Campus Programs and Curriculum 2023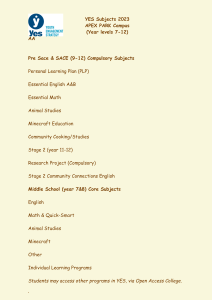 For more information, referrals please contact the YES centre on 8647 3320.