Driver Education
'P' Plate Driver Assistance
This course is aimed at developing a range of practical driving skills in preparation for students to gain their Provisional Drivers Licence.  Port Augusta Secondary School has a driver assist car and trained 'driver mentors' who supervise students undertaking driving practice to add to their recorded log book time.
Prerequisites for this program:
Current Learner Driver Permit
Minimum six (6) hours of log book tuition by and accredited driving instructor or fifteen (15) hours recorded log book time with a qualified supervising instructor
completion of PASS Student Driver Initiative Agreement
payment of $50 toward vehicle registration
Participation in this course does not guarantee that students will be successful in gaining their 'P' plates.
Learner Driver Theory
YES staff provide support to individual students to develop their driving theory knowledge in preparation to undertake the Learner Driver test.
Some day courses are run by qualified training providers when the level of interest from students is high. Such courses will be advertised in the student bulletin.
If you need more information, please call the YES on 8647 3320.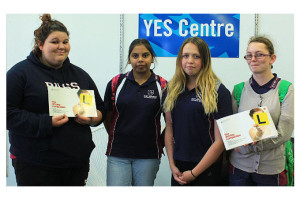 Hannah, Tahnee, Macacia and Christina proudly displaying their learner permits