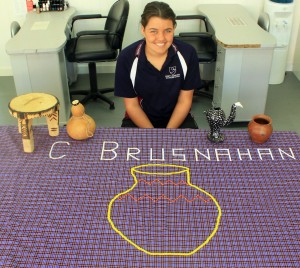 CHLOE VISITS SPONSOR CHILD IN AFRICA
A greater appreciation of how lucky we are to live in Australia was a major realisation for Year 10 student Chloe when she recently visited Africa to meet with her family's sponsor child.
Chloe and her mother Emma travelled to Tanzania from September 22 to October 6 and visited the village of Dadoma where they met with World Vision sponsor child Christina Kongwa and her family.
It is the second time they have travelled to see Christina, also visiting in 2014. The Brusnahan family has sponsored Christina for four years.
During their visit they met family and visited Christina's school. They were treated to a village welcome and were given gifts from the Kongwa family, which included a decorated pot and a stool.
Chloe said she took over some books to donate to the school. She noticed improvements in the school since her first visit.
"The school is a lot better," she said.
"It has more structured classes than when we were there for our first visit."
They also took gifts for Christina, her family and her best friend.
"We took toys, books and clothes for Christina, and we gave her friend Rosa some toys too," Chloe said.
"Christina was much more talkative, she was more outgoing and seemed happier than our first visit.
"The first time we visited she was very nervous and didn't talk much.
"This time the father had learned some English and Christina's brother translated.
Chloe said seeing how Christina had become more outgoing was one of the main highlights of her visit.
Whilst in Africa, Chloe and Emma also visited a World Vision closing ceremony at a village called Farkwa. The ceremony marked the end of sponsorship as the village had met all of the World Vision goals.
Chloe and Emma were given gifts of a beaded blanket called a Shuka, a clay pot and a pumpkin canteen from the village.
They also spent some time in Dar Es Salaam, the largest city in Tanzania, where they toured sights, took a ferry to Zanzibar Island, shopped at local markets and where Chloe got her hair braided.
One of the most confronting parts of Chloe's visit to Africa was seeing the slums of Dar Es Salaam.
"You realise how lucky you are," she said.
Both visits to Africa have made Chloe less concerned with material things.
"It makes you think about wasting money on things we don't really need," she said.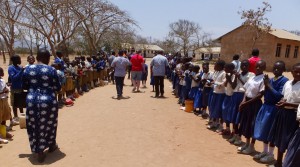 Chloe and Emma in a welcoming ceremony.