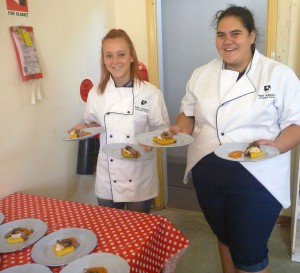 Certificate III in Hospitality students, Emilie Chesson and Jasmine Casey, helping to serve food at the Test Kitchen event, "The Art of Dining" held at Platform Gallery in February 2016.
Hospitality students help at Test Kitchen
By Chloe McPherson
Hospitality students from the YES Centre helped with a four-course, tapas-style Test Kitchen luncheon hosted by the Curdnatta Art Group at the Platform Gallery on February 19.
Test Kitchen was set up by former Port Augusta residents Ms Julie-Ann Hill, who is now an Adelaide chef, and Mr Matt Haren, who has a background in health and medical research.
It was set up in partnership with Meals on Wheels, through a State Government grant from the Office for the Ageing, and aims to encourage the elderly to dine out, talk to others and socialise.
This allows them to leave their houses and be in a safe and comfortable environment and enjoy nutritious meals. The Test Kitchen's motto is "breaking loneliness, nourishing lives".
"It aims to solve an under-nutrition issue in the over 70s age bracket," Mr Haren said.
He explained that studies reveal elderly people eat more when they are dining with others, rather than alone.
Certificate III in Hospitality students, Emilie Chesson and Jasmine Casey, set up dining tables, prepared and plated food, served drinks, waitressed and helped clean up.
The food for the event, "The Art of Dining" was pre-cooked and transported to the venue.
Mocktails were served first, with guests having the choice of either a pineapple, mint and ginger drink or a strawberry and rose drink.
The savoury lunch was a choice of roast beef and polenta, smoked trout and cucumber or lamb with baba ganoush. To finish the meal a dessert of meringue with sticky fig was served.
Thirty-six guests attended the lunch, all with their own dietary needs.
Through helping at Test Kitchen Emilie and Jasmine learnt the importance of catering for a variety of needs and making variations and alterations to accommodate the guests. For example, meals to suit vegetarians, diabetics, those at risk of choking and those with allergies.
Mr Haren said the involvement of YES Centre students was about bringing resources together, allowing students to practice skills, keeping costs low and fostering inter-generational relationships by allowing students to interact with different age groups in real-life situations.
Mrs Belinda Myles, who delivers the Certificate III in Hospitality, said the opportunity for the students to assist arose after Ms Hill and Mr Haren contacted Ms Karen Wallace, assistant principal, YES Centre.
Test Kitchen is looking to continue the partnership with hospitality students and will be holding six fortnightly luncheons at the ETSA Bowling Club, starting on April 7.