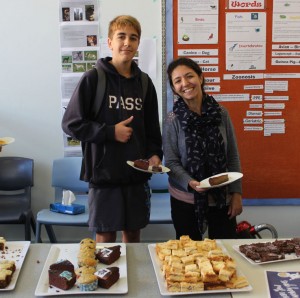 Jake Strangways and Ms Tabi Franco enjoying some of the food at the Biggest Morning Tea fundraiser.
KAYNE RAISES FUNDS FOR CANCER COUNCIL
By Chloe McPherson
YES Centre Community Studies student, Kayne Lloyd-Freer, raised $155.45 for the Cancer Council at an Australia's Biggest Morning Tea fundraiser.
The fundraiser was held in the YES Centre meeting room during lunch break on Thursday, May 26 and outside in the main courtyard during recess.
With the help of Mrs Belinda Myles, who delivers the Hospitality program in the YES Centre, Kayne, 17, researched recipes, planned the event, cooked food to sell, organised set up and decorations, and sold food on the day. He also counted proceeds and organised for the funds to be banked.
Food on sale at the morning tea included cupcakes, scones with jam and cream, sweet and savoury muffins and savoury tart.
Donations were a gold coin or $5 for a plate of food.
Kayne hosted the morning tea as part of his Stage 2 Community Studies subject.
He said hosting the morning tea helped with his confidence. He said at first when people started coming in he felt a bit awkward, but by the end his confidence had grown.
Community Studies teacher Mr Clayton Crabbe said Stage 2 students are required to complete 60 hours in projects serving the community and through work experience.
He said Kayne achieved about 30 hours of his requirement through this fundraiser and may now pursue work experience in a food-based workplace to complete his 60 hours.
"Community Studies is a subject that gets students to do a project that engages with the community," Mr Crabbe said.
"Obviously Cancer Council raises funds for a good cause and for an issue that's prevalent in the community."
Mr Crabbe also said Community Studies provided a good insight for students into how workplaces operate and how it is in the workforce.
Australia's Biggest Morning Tea is a Cancer Council fundraising initiative to help its vital work in cancer research, prevention and support service programs.
In Australia, one in two people will be diagnosed with cancer by the age of 85.
Last year Cancer Council raised over $13.6 million through its biggest morning tea fundraiser. Its aim this year is to have more than 38,000 people host a morning tea around Australia with a fundraising goal of $13.8 million.
Cancer Council is the largest independent funder of cancer research in Australia. In 2015, research grants through Cancer Councils totalled more than $70.5 million.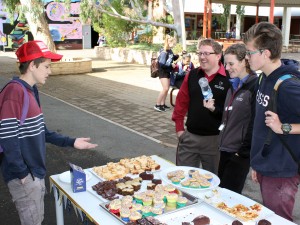 Kayne Lloyd-Freer selling food to Mr Andrew Allen, Mrs Lee Allen and Jordan Van Meurs at his Biggest Morning Tea fundraiser on May 26.