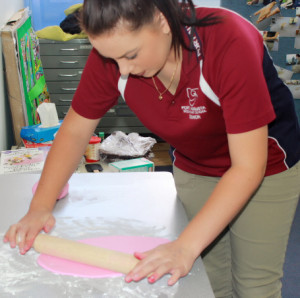 Year 12 YES Centre student, Sharna Nadebaum, rolling out the fondant for the cake she produced as part of her SACE Research Project.
SHARNA DELIVERS DREAM CAKE
By Sophie Bowles
Student Sharna Nadebaum, 18, has discovered that cake decorating is a skill that requires a lot of patience.
As part of her SACE Research Project, the Year 12 YES Centre student made and decorated a birthday cake suitable for a five-year-old girl.
For her research project Sharna chose to investigate 'How can design techniques help develop one's decorating ability?'
"I had to explore what was the perfect cake for a five-year-old girl," Sharna said.
"I asked my niece and she said a number five with flowers on it and it had to be pink!"
It took Sharna three hours in total to make, bake and decorate the cake.
If she was to do it again, Sharna said something she would do differently would be to make all of the flowers ahead of time.
Ms Mari Yu and Mrs Maritiana Murray helped Sharna with her project.
"I chose this topic because I love cooking and because my aunty decorates cakes as well," Sharna said.
She said the hardest part about the project was putting the fondant on the cake without it cracking.
The aspect she enjoyed most was making the flowers.
"I learned during my research that cake decorating is classified more of a craft than art, which surprised me," she said.
When asked if she might consider doing cake decorating as paid work, Sharna said she didn't know if it was something she could see herself doing all of the time.
"I don't think I would have the patience to do cake decorating all of the time," she said.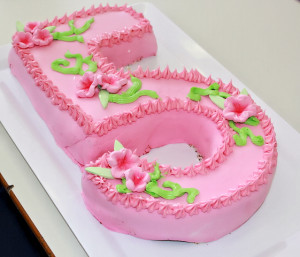 The final result – any five-year-old girl's dream cake.