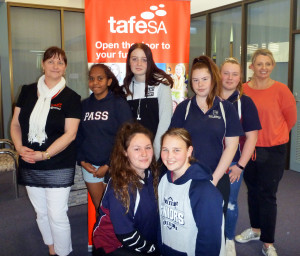 YES students with TAFESA Retail lecturer Julie-Ann Thompson (left) and YES lecturer Mrs Kristy Kuhn.
STUDENTS COMPLETE JOB READY RETAIL TRAINING
Eight students from the YES Centre gained valuable training in the retail services industry, as well as earning 10 SACE credits, when they completed the 'Getting Casual Job Ready' course earlier this month.
The course, held at TAFESA Port Augusta, ran from Monday, September 10 to Wednesday, September 12.
Students studied selected retail units that included planning a career in the retail industry, engaging the customer, and organising and maintaining a store environment.
The course also provided students with training to enhance their communications and teamwork skills and prepare them to work in retail and sales.
It also provided them with a feel for the industry, helping them to understand how to apply safe work practices and to organise and maintain work areas.