TEXTILES STUDENTS BRING FESTIVE CHEER TO YES CENTRE
Festive cheer was brought to the YES Centre by Textiles students who made their own Christmas decorations and placed them on a tree in the entrance to the centre.
Students in Years 8-11 designed and made fabric and ribbon decorations during their Textiles lessons in Term Four.
They used skills such as tacking, blanket stitch, beading, sequinning, embroidery and gathering to make an array of different decorations. There were stars, reindeers, Santas, stockings, gingerbread men, hearts, bells, Christmas trees and puddings, angels, snowflakes and spirals.
They also made a fabric garland with the words "Merry Christmas" which was hung next to the decorated tree.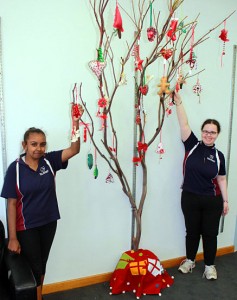 Students Tahnee and Brianna decorating the Christmas tree in the YES Centre with decorations made by Textiles students.