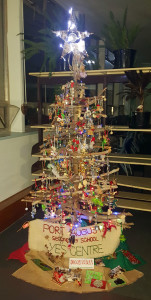 YES CENTRE HOPING TO BACK UP WIN IN CHRISTMAS TREE FESTIVAL
Riding the wave of success after winning last year's Port Augusta Christmas Tree Festival, YES Centre staff and students have once again been busy preparing an entry for this year's event.
YES teacher Mrs Maxine Lloyd said the theme YES has chosen this year is 'Decorations made from recycled materials'.
"A variety of different mediums have been recycled, including coffee pods, bottle tops, corks, tins, twigs, plastic drink bottles, magazines and newspapers," she said.
They are all being fashioned into Christmas decorations to decorate the YES tree.