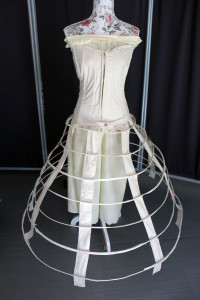 YES STUDENT DESIGNS AND MAKES EARLY VICTORIAN GARMENTS 
The impressive final practical project of a Year 12 Visual Art Design student is presently on display in the YES Centre.
Teacher Mr Clark said the student analysed garments from the early Victorian period, including crinoline (hooped skirt), corset and chemise.
He said she formulated her own task brief which looked at the function and design of the garments.
As part of the practical component of her task, she had to draft her own pattern for the corset and crinoline. The corset was fully boned and she made her own lacing and eyelets.
The aspect she enjoyed most was creating the boning channels for the corset and working out the dimensions for the pattern. The most difficult aspect was designing the skirt.
"The design of the skirt was challenging and involved a lot of trial and error," she said.