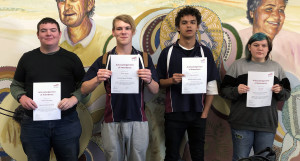 YES STUDENTS GAIN VALUABLE RETAIL INDUSTRY TRAINING
A group of YES students gained valuable training in the retail services industry when they completed a Retail and Skills for Work course at TAFE Port Augusta last month.
The course provided students with the opportunity to get a feel for the industry, understand how to apply safe work practices and to organise and maintain work areas.
The course also enhances communication and teamwork skills and prepares students to work in retail and sales.
Successful completion of the course provided 10 SACE credits for the students.