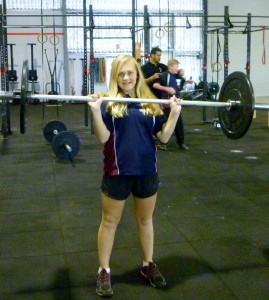 CAPTION: Tarika Pfitzner lifting a barbell at Crossfit.
Students from the YES Centre at the Port Augusta Secondary School have been getting a taste of the extreme fitness challenge that is Crossfit.
The program was first introduced to students in term one, 2015 to show students the benefits of regular exercise.
Crossfit is designed to provide people with new skills to improve their strength, endurance, agility, power, speed, balance as well as increasing their motivation and confidence by doing activities such as rowing, running, skipping, burpees and squats.
The class was initially part of the healthy eating and life styles program, but due to the huge interest from attending students, it has now transferred into HPE lessons.
"Crossfit is such a supportive environment," Crossfit owner Jason McInerney said.
"Everyone pushes each other along and motivates one another, it is like family."
Mr McInerney has participated in Crossfit for two years now, but only got serious about the program over the past 12 months when Crossfit Port Augusta was first opened.